BUILD A FUTURE-PROOF ENTERPRISE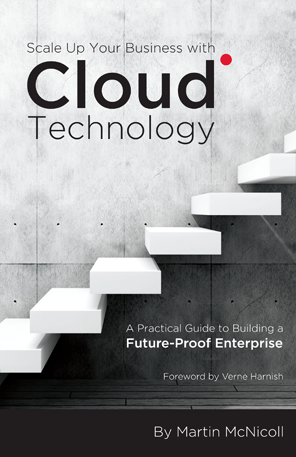 A Practical Guide to Building a Future-Proof Enterprise
How are newcomers shaking up your industry, and what are you doing to make sure you won't be the next dinosaur to become extinct? How will you adapt and thrive, and become the instigator of change rather than be overwhelmed by the forces created by others?
This timely read by Martin McNicoll shows exactly how to weatherproof your business against the changing times and become the most nimble competitor on the block the only way possible—by becoming scalable. The easy-to-digest wisdom in this book includes actionable tips on how to:
• Reverse the cost structure of your software to boost its value
• Set up winning processes and eliminate rogue applications
• Become better at change management to build your growth coalition
• Pick the technology stack that will evolve at your pace
• Implement cloud solutions iteratively and avoid surprises
• Explore omni-channel to create the super-personalized experience that customers want
A Word From The Author
Over the years, I've learned to weatherproof my business for adversity, so that when it strikes, I have a way out. It was a "light-bulb" moment when I realized that becoming scalable was the best way to do so.
I wrote Scale Up Your Business with Cloud Technology as a practical guide with ideas and tips you can act on immediately. Every scenario exists in the parallel universe of your organization, with your people, your processes, and your pressures. Some examples might speak to the entrepreneur in you, while others aim straight for the CIO's and Information Systems Manager's heart.